Kellton Tech has announced plans to establish EMEA headquarters in Drogheda. It is expected that the company will create around 100 jobs over five years.
Kellton Tech is a global IT firm which provides business services with a focus on the "Internet of Things" as well as social, mobile, analytics, cloud and enterprise resource planning. Clients of the company include JP Morgan, Starbucks, Nike, DuPont, Novartis and Groupon.
Karanjit Singh, chief executive, said that Ireland offers the company language skills and time zone advantages which make it particularly suitable for technical support, sales-enablement and accounting.
"Given that the US region contributes substantially to our revenue, the Ireland office will also be best-equipped to support US operations," Singh said.
Krishna Chintam, co-founder and managing director of Kellton Tech, agreed, and said that Ireland offers tech talent with multilingual skills.
"As a pioneer of digital transformation, we are the market leaders in India with strong penetration in US. We are happy to extend our expertise to the EMEA market with Ireland as our base. We believe that this region is poised to emerge as our largest revenue-contributor outside of US."
Kellton Tech supported by the Department of Jobs, Enterprise & Innovation
The EMEA headquarters will also house an R&D facility. The development is supported by the Department of Jobs, Enterprise & Innovation through IDA Ireland.
Richard Bruton, Minister for Jobs, Enterprise and Innovation called the announcement a major boost for the North East and for the region.
"At the heart of our jobs plan is our determination to accelerate job-creation in cities, towns and villages across the country, and that is why we have put in place the regional jobs plan," explained Bruton.
The Naval Service is the State's principle seagoing agency with a general responsibility to meet contingent and actual maritime defence requirements. It is tasked with a variety of roles including defending territorial seas, deterring intrusive or aggressive acts amongst others. The Naval Service has also been involved in humanitarian search and rescue missions in the Mediterranean, with more ships awaiting deployment this year.
The Naval Service is looking for disciplined and motivated people to join recruit training.  If you are interested in a life at sea, as part of a dynamic, professional and highly motivated team then the Naval Service is for you. No formal educational qualifications are required. However, you must possess a sufficient standard of education for service in the Defence Forces. Applicants must not be less than 18 years of age and under 27 years of age on the closing date for applications.
The Irish Naval Service will be exhibiting at Jobs Expo Dublin on 7-8 May 2016 at Croke Park.
ETC Consult has been providing top quality services and products since 1982. They work with people of all ages who are looking for professional career help, and organisations that wish to enhance their staff selection process by using psychometric testing, competence interviews and background checks. ETC Consult provides internationally recognised psychometric assessment training to HR, training and line managers. The company works also with teachers who need assessments and resources for the classroom, and parents who want to provide the best for their children in terms of education and career choice. In addition, the company consults with anyone who wishes to learn more about topics such as education, psychology, intelligence, aptitude, personality, stress and so forth.
ETC Consult will be exhibiting at Jobs Expo Dublin on 7-8 May 2016 at Croke Park.
British high street retailer BHS has gone into administration putting 11,000 jobs at risk. It is thought that up to 164 stores could close.
Administrators have said that efforts to find a buyer for the group have been unsuccessful, and that due to a lower than expected cash balance, it is unlikely that the company will meet all it's contractual obligations.
BHS has debts of more than £1.3 billion. This includes a pension fund deficit of £571 million. Both of these obstructed rescue talks over the weekend.
In the meantime the company will trade as usual, and owner Dominic Chappell has promised to work with administrators to find a solution.
"No-one is to blame. It was a combination of bad trading and not being able to raise enough money from the property portfolio. In the end, we just couldn't reach an agreement with Arcadia over pensions," Chappell told the Press Association.
BHS made headlines last year when it was bought by Retail Acquisitions, which headed by Mr Chappell, for £1 from billionaire Sir Philip Green of the Arcadia retail empire. The Arcadia group bought BHS in 2000 for £200 million.
It has been reported that Green offered £80 million towards the pension deficit. However, the regulator may pursue Arcadia for further payments.
Sir Philip Green may face questions from MPs
It is thought that Green may be called before MPs to face questions over the failure of BHS. Work and pensions committee chair Frank Field told the press that he was sure Sir Philip "will be invited." The committee will investigate how the collapse of BHS will affect the Pension Protection Fund. It is also thought that the Pensions Regulator will investigate whether or not Arcadia avoided their pension obligations.
John Mann, a Labour member of the Treasury select committee, has called on Sir Philip to reimburse BHS the £400m of dividends that he took out of the company.
"Sir Philip Green and his family have made millions out of BHS and its hardworking staff. He took over a company with a healthy pension pot, yet when he sold BHS a black hole had appeared in its fund," Mann said.
"There is a very simple and honourable solution to this crisis: repay the dividends, live up to the name he has chosen for his new yacht, 'Lionheart', or lose his knighthood."
The collapse of BHS is the UK's biggest retail failure since Woolworths in 2008.
Obelisk, the Cavan-based telecoms group is to create 200 new jobs. The news comes after the company raised €6 million in funding to support their expansion in the UK and South Africa.
The news will see a significant increase in employees and revenue. Obelisk currently employs 250 engineers and generates annual revenues in excess of €20 million. Export revenues currently account for 40 per cent of the company's turnover.
Obelisk was founded in 1996 by Colm Murphy and Padraig Brady and provides specialist services to the telecoms and utility sectors. They began by servicing the Irish telecoms sector, but in the past decade they have expanded into power infrastructure projects. It is this that has lead Obelisk to expand into the British and South African markets.
Obelisk funded through scheme for mid-sized Irish companies
Approximately half of the €6 million funding came from the BDO Development Capital Fund. This is an initiative that will provide a total of €225 million to mid-sized companies that show growth potential. The BDO scheme comprises €75 million in funds from the Department of Jobs through Enterprise Ireland. This will be matched with €150 million of private sector funds for investment in Irish companies.
"The global markets for telecommunications and power infrastructure are set for exponential growth and we believe Obelisk has the expertise and experience, coupled with lots of hard work and commitment, to capture a significant part of this growth," said chief executive Declan O'Neill.
Celsian Education specialises in teaching recruitment. They have been matching exceptional teachers and support staff with fantastic primary, secondary and SEN schools for more than twenty years. Celsian Education has branches all over the UK, each with in-depth local knowledge and specialist insight. They are experts in the education industry, offering a service which is flexible, collaborative and unique. Celsian Education is a trusted recruitment company and a member of APSCo, the Association of Professional Staffing Companies.
Celsian Education will be exhibiting at Jobs Expo Dublin on 7-8 May 2016 at Croke Park.
Concentrix is a leader in high-value global business services. They deliver end-to-end customer engagement services, technology innovations, analytics, process optimization and business improvements. The company offers expertise in a range of industries, including banking and financial services, healthcare and pharmaceutical, technology, retail, e-commerce and tourism. Concentrix operates in 25 countries, employing in excess of 70,000 staff speaking more than 40 languages.
Concentrix will be exhibiting at Jobs Expo Dublin on 7-8 May 2016 at Croke Park and at Jobs Expo Cork on June 23rd at the Clayton Hotel Silver Springs.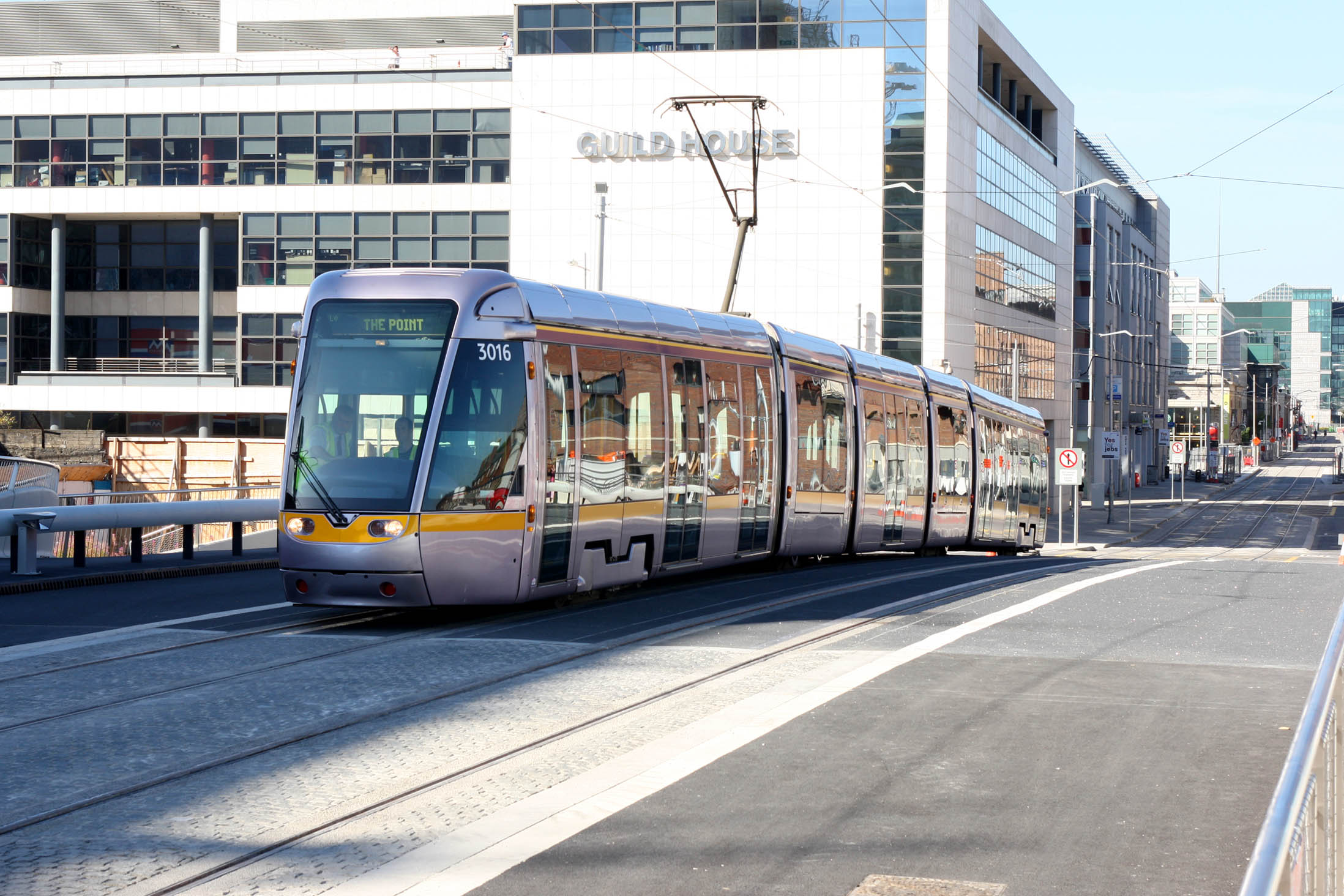 Luas drivers and Transdev management will meet on Monday 25 April as the deadline for proposed strike action approaches. It is hoped that the talks will avert the strikes planned for this week and next week.
Non-driver grades are also set to ballot on a new pay proposal offered to them last week by Transdev, the Luas operator.
Pay Proposal
The proposal offers pay increases of up to 13% by September 2019. Staff would also receive a once-off lead-in payment of €750 by the end of the year. €500 of this would be tax-free.
More controversially, the proposal also includes reduced pay rates for new staff. Luas drivers and Siptu have strongly criticised this suggestion. The proposal also includes new productivity measures. In addition, there is a potential future bonus of 6.5 percent. This is depending on an individual employee's performance, rather than the performance an entire grade.  Furthermore, long-serving personnel would receive an increment of 3 percent.
Transdev warned that the proposals will be taken off the table if Siptu do not recommended accepting them.
Transdev's proposals for non-drivers also states that they will withdraw warnings of pay deductions for striking employees. Letters sent to staff placing them on protective notice will remain in force until the dispute has been resolved.
Transdev has set a deadline of Monday for non-driver personnel to accept the new proposals. It is expected that drivers will be offered the same compensation package. However, this is less than the initial offer that Luas drivers overwhelmingly rejected last month.
Strike Days
Should talks not result in an agreement, Luas drivers have planned strikes on Thursday 28 April and Wednesday 4 May.
Pharmaceutical company Merck has announced the creation of 70 new jobs in Cork at two new facilities. The company expects the roles to be filled within the next 18 months. The jobs created will be in general manufacturing, R&D, engineering, chemistry, microbiology and quality assurance.
Merck's Cork operation is undergoing expansion. It will include a new, state-of-the-art speciality membrane facility as well as a chromatography media facility.
"To get another investment in that area is very important to us, because it builds on what we already have here, and the second investment, then, which is chromatography media facility — that's a new area for Cork," said Martin McAuliffe, MD of the Cork operation.
"That's important, because it's a new departure for us and it gets us into a new area of the business that we can grow over time," said McAuliffe.
Merck to invest €55m 
The new facilities represent a €55m investment in Merck's Cork operations. This will position Cork at the centre of the pharmaceutical giant's global operations. Furthermore, it ensures its strategic importance to the company. One important development is that Merck's Cork-based R&D team is set to expand significantly. A small number of R&D staff are already employed in Cork. This is set to grow substantially in the coming years.
Merck already employs 700 people in Cork. The announcement is also good news for the construction sector. Around 400 construction workers will be employed to build the two new centres.
Transitions Optical, the world leader in photochromic lenses, is looking for people to join its Galway-based team across a number of disciplines including engineering, R&D, science and quality. We offer rewarding job opportunities working with exciting technology in a fast moving global organisation. We provide an attractive compensation and benefits package with opportunities for career growth and personal development. Our people work in a collaborative environment that values their ideas and diversity.
Transitions Optical will be exhibiting at Jobs Expo Dublin on 7-8 May 2016 at Croke Park.
Go4Less will be returning to Jobs Expo in Dublin this May. Go4Less is an Irish owned fully bonded and licensed travel agent who specialises in working holiday visas to Canada, Australia, New Zealand and the US.  They have a dedicated Work Visa Department at their Lower Abbey Street's offices in Dublin. Go4Less also offer cheap flights, travel insurance, hotels, sun and ski holidays. Go4Less is a part of the Club Travel LTD group. Club Travel has been established for 43 years and is the single largest travel management company in Ireland.
Go4Less will be exhibiting at Jobs Expo Dublin on 7-8 May 2016 at Croke Park.
Abbott is a diverse, global healthcare company. They discover, develop, manufacture and market diagnostics, medical devices, nutritionals and branded generic pharmaceuticals. The company employs nearly 70,000 people worldwide, had global sales of approximately $22 billion in 2014, and serves people in more than 150 countries. In Ireland, they employ almost 3,000 people across 11 sites. The company has six manufacturing facilities located in Clonmel, Cootehill, Donegal, Longford and Sligo and a third party manufacturing management operation in Sligo. It has commercial and support operations in Dublin and shared services in Dublin and Westport. Abbott serves the Irish market with a diverse range of health care products including diagnostics, medical devices and nutritionals, and has been operating in Ireland since 1946.
Abbott Ireland  will be exhibiting at Jobs Expo Dublin on 7-8 May 2016 at Croke Park.