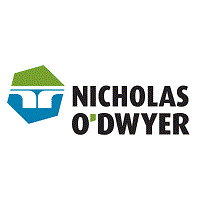 Nicholas O'Dwyer
Nutgrove Office Park, Nutgrove Avenue, Rathfarnham,
---
As one of the most respected, most financially stable and longest-standing companies within our sector, we are an obvious choice for graduates or experienced engineers who wish to take their career on to the next level.
We provide opportunities through our work throughout the world for challenging and rewarding careers to engineers, environmentalists and other technical qualified people.
We have a very strong creed of entrusting and promoting our staff to the limits of their ability, constantly challenging them to become more accomplished and effective engineers.
This is not to say that they're left to their own devices. Far from it, in fact, as we practice a Director-led service which means that both our clients and our staff have instant and easy access to our senior directors.
We are very much an engineer-driven company, with a focus on exceptional client service.
We work to retain talent long term in the company and seek on completion of assignments to overseas projects to find new opportunities for our people through our many global contracts.
WORKING WITH US
At Nicholas O'Dwyer, we have consistently attracted the brightest and the best of new and mature talent across a range of engineering disciplines. And that's no accident, as we fundamentally believe that our staff are the biggest single drivers of our reputation and our success – both at home and abroad.
Recruits to Nicholas O'Dwyer have immediate access to a range of major engineering projects – in Ireland, the U.K., Europe and Africa. And with our record of success, the prospect of follow-on contracts is extremely high.
Our staff also enjoy collaboration opportunities with the biggest global names in our industry, adding even further to their C.V. and to their global marketability.
And with our unwavering commitment to Continuous Professional Development, that C.V. can get even more impressive! Our CPD process is formally accredited and audited, and represents our core belief in investing in our people.
As a company that depends so heavily on our people, we are a very social organization, and believe in a work-life balance that is both sustainable and healthy for our people.
OUR FIRM & PEOPLE
Key Facts
Services in water/wastewater engineering to authorities serving over 5 million consumers.
Engineering services to water sector projects with a construction value of over €1 billion.
Engineering services to the development of over five thousand kilometres of highways.
Engineering services to transportation  sector projects with a construction value of over €1 billion.
Over 3 million man-hours of engineering services
OUR RECRUITMENT PROMISE
Nicholas O'Dwyer aims to create a positive recruitment and selection experience for every prospective employee.
We are committed to handling applications in a fair and consistent manner. All candidates will be treated with dignity and respect. Each application will be acknowledged and it will be reviewed by our recruitment team.
Throughout the recruitment and selection process those involved will act with integrity, objectivity and professionalism.