The Irish Air Corps continues to operate a range of rotary and fixed wing aircraft within existing organisational structures. The principle aim of the Air Corps is to undertake the required military operations and to deliver a broad range of air supports to other government departments and agencies.
We operate fixed wing aircraft in No1 Operations Wing, consisting of Casa Maritime aircraft, Lear Jet and Pilatus PC-12 and are due to see the arrival of new Casa 295s in 2023. Typical operations include: maritime patrols, air ambulance, search & rescue top cover, military transport and ministerial air transport.
In our rotary wing unit, No3 Operations Wing operates Augusta Westland 139's and Eurocopter EC-135. Typical operations include: army and naval support, air ambulance, military transport, special operations. Pilots in No3 Operation Wing have the opportunity to serve in the Emergency Aeromedical Service AC112 and Garda Air Support Unit.
Other career opportunities in the Air Corps consist of other unique and exciting role such as Air Traffic Control, crash rescue, medical services, logistics and administration. Specialist Units such as our Communications and Information Services Squadron (CIS) deal with all matters pertaining to communications, navigation and information technology equipment and systems required by the Air Corps to discharge its assigned roles.
The Air Corps are seeking highly motivated and committed young men and women to join our team and we are currently recruiting general service recruits and intend on running cadetship and apprentice competitions later this year.
Current vacancies include:
The Air Corps Recruit is a motivated individual, who is looking for a fulfilling and exciting career. As an Air Corps recruit you will attend basic Recruit training where you will transition from a civilian to a soldier. Recruits will take part in 12 weeks of rigorous physical and mental training before passing out as 2* Airmen and Airwomen. You will then conduct a further 12 weeks of advanced tactical training before being granted your 3* Airman/Woman rank.
Training is demanding. Military training is designed to test an individual's ability to perform under pressure and work as part of a team. These skills will stand to the AC Recruit as they progress through their career in the military.
The Air Corps needs 3* Airmen and Air women to fill its many and varied specialist roles. These include:
Flight Attendants
Aviation Fire Crew
Aircraft Technician
Air Traffic Control
Sensor & Radar Operators SARO
Avionics Technicians
Flight Attendants
Aviation Fire Crew
Safety Equipment Maintenance personnel
Aviation Photographers
Transport personnel
Specialist Helicopter Aircrew
Airfield Services Maintenance – Nav Aids (CIS)
Flight Safety
Military Quality Assurance & Airworthiness
Operations Personnel
Admin & Logs Personnel
Landing point commanders
Human Resources
Intelligence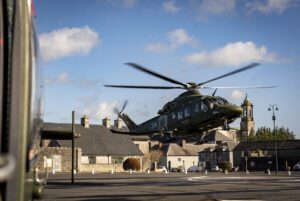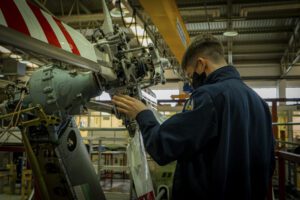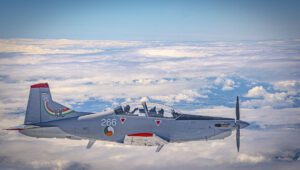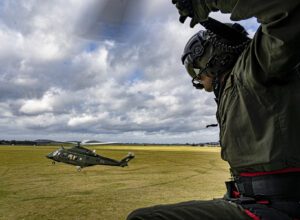 Tactical Helicopter Crewman:
The roles of a Tactical Helicopter Air Crew can consist of aerial gunnery, winch operator, rescue swimmer, Air Ambulance medic, aerial firefighting, night vision operations and much more.
No 3 Operations Wing has been fulfilling helicopter tasks for the State since 1963. As general purpose aircrew, you are a key team member of the Air Corps' AW139 and EC135 helicopter flight crew. No two days are ever the same. You will acquire a wide range of skill sets necessary to accomplish your mission, making for an exciting and fulfilling career. As general purpose aircrew you will be trained to work in a wide range of challenging roles and environments by day, night and with the use of Night Vision Goggles (NVG).
Your roles will range from fighting forest fires using our aerial firefighting bambi buckets to winching onto Naval vessels at sea. Providing tactical helicopter support to the army is a major part of the role. You will work closely with specialist operations forces (the Army Ranger Wing) both by day and night in a multitude of roles, including marine counter terrorism (insert link to MCT Video) which involves fast roping an assault team onto a moving ship at sea from an AW139 and providing sniper and machine gun top cover from our EC135 and/or AW139 aircraft.
As a member of the Emergency Aeromedical Service (EAS) team, you will work jointly with the National Ambulance Service (NAS) for the provision of the national air ambulance based in Custume Barracks in Athlone. As a fully qualified Emergency Medical Technician we work along the Advanced Paramedic from the national ambulance service, providing pre-hospital critical life support nation-wide. There is no such thing as a typical day as a helicopter general purpose crewman/woman.
Fixed Wing Sensor Airborne Radar Operator:
The Sensor and Radar Operator (SARO) is a key member of the flight crew on board the Air Corps Maritime Patrol Aircraft. SARO's operate the electro-optical/infra-red (EO/IR) imaging system and surveillance radar system to assess all maritime vessel activity operating within the Irish EEZ. They also operate a multitude of communication systems on board the aircraft providing real time mission details to various maritime and ground based stations. The SARO has responsibility for air deployable ordnance such as flares and para-illums as well as deploying lifesaving equipment from the aircraft in the event of SAR missions. SAROs will have a deep knowledge of both aviation and maritime operations and work closely with the pilots during all operational flights to ensure a safe execution of all missions."
Individuals who are interested in becoming a SARO must be of 3* Airman/Woman rank SARO courses are run by No.1 Operations Wing.
Aircraft Crash Rescue Firefighter:
The Crash Rescue Service (CRS) are the primary blue light response service for the Irish Air Corps. The CRS Team are professional fire-fighters and EMTs 24/7 who provide cover the operational airfield and surrounding areas. CRS operate state of the art equipment which includes four 6x6 Rosenbaur Panther Aviation firefighting Tenders. In addition CRS have access on site to a fully equipped training ground with Breathing Apparatus, Compartment Fire Behaviour, Flashover and Aviation simulators. The unit consists of full time operational fire-fighters who are all trained in both Structural and Aviation firefighting to the highest international standards with a Level 6 Diploma in Fire Services Operations.CRS courses are run by No.5 Support Wing and take place both in Ireland and abroad.
Airborne Photographer:
The Airborne Photographer is a multi-disciplinary image specialist that operates across all Irish Air Corps aircraft. As an Airborne Photographer you are responsible for capturing imagery for analysis and verification,providing military decision makers with the information and intelligence required to defend the state and its interests. An Airborne Photographer is equipped with cutting edge photographic equipment. They operate complex photographic software in order to achieve their mission. Deployment on taskings can involve both national and international travel. An Airborne Photographer should have strong communication and interpersonal skills as they are required to seamlessly operate with air crew across distinctive mission profiles.
Flight Safety
Flight Safety is central to how the Air Corps operates. Flight Safety personnel are trained to identify, mitigate and manage hazards that could impact on operations. The role is varied and involves working with personnel from across the organisation. Flight Safety does not just involved flight crew but the entire network of people required to ensure safe flying operations such as technicians, air traffic control, operations planning, refuelling and support services. Personnel involved in safety management in the Air Corps receive the highest standard of training in safety management systems, accident/incident investigation and in Human Factors. Flight Safety staff manage safety reports and hazard reports which all personnel in the air corps can submit to help maintain and improve our operational processes.
Flight Attendant:
The primary role of the FA is safety, acting as a first line of defence for detecting any unsafe conditions. Completing PDI checks before each flight and ensuring all safety equipment is present, sealed, secured and in working order. Briefing passengers on the safety features on-board and actions to be carried out in the unlikely event of an emergency. They are responsible for the safety of our passengers throughout the flight. You are trained to deal with and manage any in flight medical emergencies. Responsible for the evacuation of the Aircraft in case of emergency and respond quickly to unsafe conditions in the aircraft cabin. You must be a good communicator as you liaise between the crew and passengers to ensure an efficient and safe mission for all. Liaison with the DLO in order to keep informed of any time changes and informing all relevant parties. You will be required to up to date on all aspects of flight attendant training including completing MedAire (management of inflight illness), Crew Resource Management (CRM), and other safety related skills, i.e. evacuation drills etc.
Ground Attendant:
The primary role of a ground attendant is the pre-flight management of all passengers and their luggage and travel documentation. You assist the Flight Attendant in the preparation of the aircraft prior to and post flight. You provide liaison with all relevant personnel involved in the operation. When not involved directly with flight operations, you assist with the day to day running of the passenger terminal including organising space for meetings, reception of VIPs and assist with Air Ambulance missions as necessary.