Jobs Expo Dublin kicks off a Croke Park today at 10am. Career Coach, Artem Petsyukha, will be giving his talk, Everything you wanted to know about career change but were too afraid to ask, at 12pm on the Agenda Stage in the Hogan Suite.
About Artem
Artem Petsyukha is a business mentor and a professional coach. He works with artists, executives and entrepreneurs, leaders and change-makers, who want to be more efficient, fulfilled and happy, who want to change the world and embrace the change, who stay open and keep searching. Career is a wonderful entry point to get a better life, but there are many more options to consider. Artem would be happy to help you to come closer to your dreams and goals by making the best decisions and taking the most rewarding career steps.
Artem is a senior business development and innovation leader with 20 years of experience in technology and payments industries, including working at Mastercard in Russia and Ireland.
Feel free to connect on LinkedIn or visit Artem's website for more information.
https://www.linkedin.com/in/petsyukha/
Founded in 2014, Azon Recruitment Group applies specialist recruitment expertise to service the needs of talent and teams in sectors that Ireland is globally renowned for, with offices in Dublin, Limerick and London.
Here's an overview of their current recruitment desks:
Construction,
Science & Engineering,
IT
Accountancy & Finance
Property
Legal
HR & Office Support
Sales
Marketing
Want to maximise your career success? Come visit their expert recruiters at Jobs Expo Dublin 2022, check out azon.ie or find them on LinkedIn, Instagram, Facebook and other socials.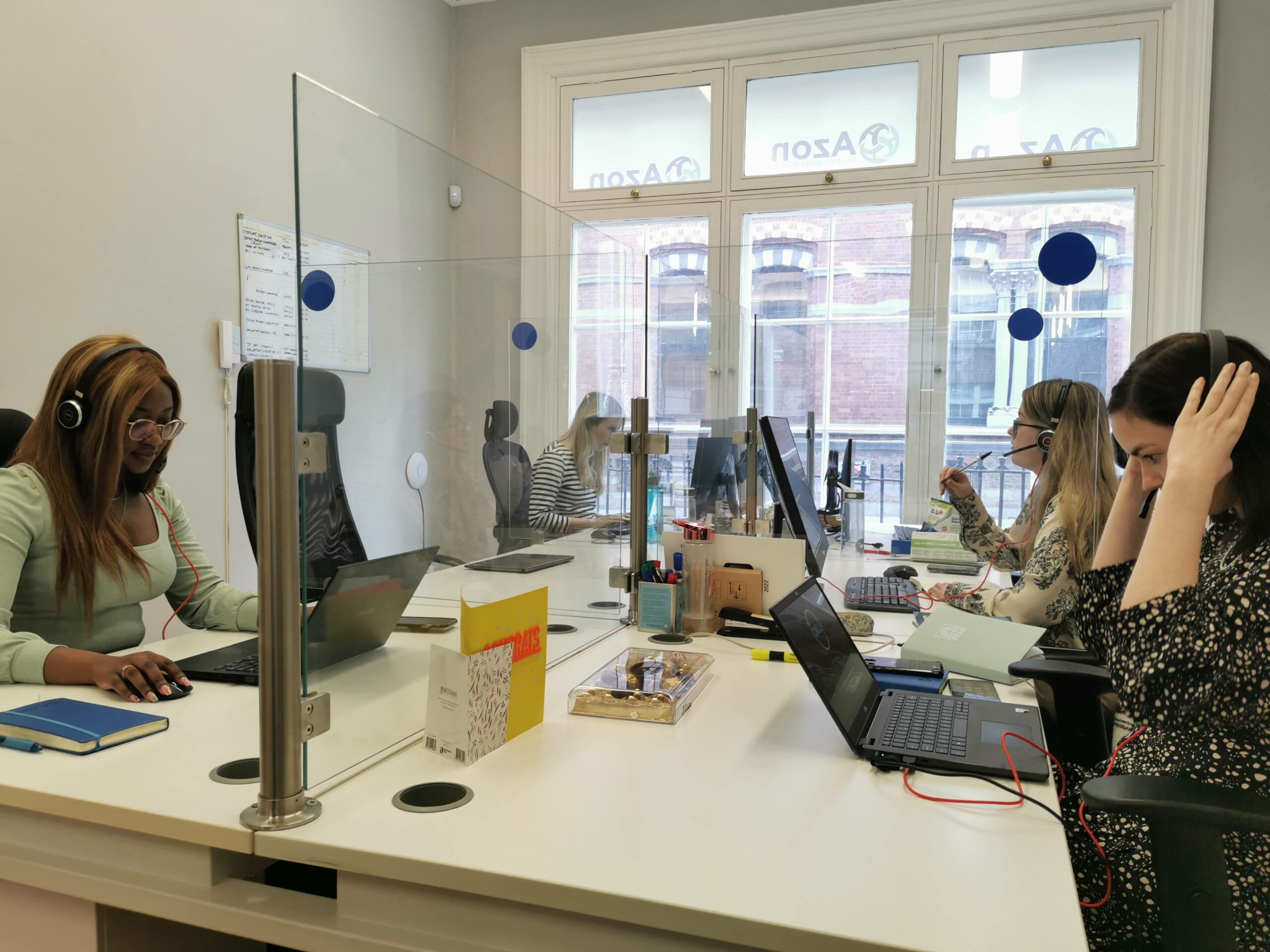 Want to work for Azon? They are looking to add to all of their teams right now, at every level of seniority. All their desks have a great mix of new college graduates, experienced recruiters, and those with industry-specific experience. They offer flexible hybrid working, out of office events, consistent L&D upskilling, catered lunches, nights out, dedicated Recruiter licences and loads more! Send your CV to careers@azon.ie or come chat to them at Jobs Expo!
Are you looking for a new job in Dublin? National Express will be exhibiting, as well as recruiting, at Jobs Expo Dublin. Chat with their team and hand in your CV at their booth in the Hogan Suite between 10am and 4pm.
Join National Express on the journey
Operating out of Dublin Airport, Dublin Express (part of National Express Ireland) have the contract to deliver a service that operates exclusively from Dublin Airport, to key central destinations within Dublin city centre. This Customer Service Advisor role is the perfect environment for someone who is energetic, enthusiastic, safety focused and customer service driven.
Additional information
Permanent full time position.
Must be willing to work flexible hours.
Shifts: any 5 days out of 7, working shift patterns in between the hours of 5:00am (earliest start) and 01:30am (latest finish). A basic knowledge of Dublin city centre is desirable.
Key responsibilities
• Deliver an excellent standard of customer service at all times, taking a proactive and positive     approach to ensure customer satisfaction
• Selling tickets and add-on products to customers, and providing them with support and  information as required
• Managing coach movements within the station and exceeding the Health & Safety standards
• Using a proactive approach to make travel arrangements for their customers
in the event of delays or service disruption
The US software business, Guidewire has announced its plans to create 150 hybrid roles in Ireland after they open their new EMEA headquarters in Blanchardstown. Ireland has already played a huge part in the company's international growth over the past decade. They now have product development and cloud teams in Dublin.
The business is hiring for various roles including cloud operations, consulting managers, HR and recruitment, engineering, specialist cloud transition roles, technology consultants, business analysts, entry-level graduate positions, and more.
Guidewire already has a workforce of around 450 individuals around Ireland and plans to increase this number to 600 over the next two or three years. Although their office is situated in Blanchardstown, the positions will be entirely flexible and open to people all over Ireland.
The business offers cloud-based software to over 450 property and casualty insurers currently including Aviva UK, Alliance Insurance, MetLife, Zurich Insurance, and American National. Their Dublin base has experienced huge growth since they first opened 10 years ago and now is the biggest employee community in Europe and outside the US. Guidewire also has offices in Sydney, Madrid, London, California, Kraków, Exton, Mississauga, and Exton.
The brand new 85,000 square foot office building in Dublin has an executive briefing centre for partners and customers across the EMEA region. The company's CEO, Mike Rosenbaum has said Ireland has been central to their international growth for the last 10 years and that they look forward to expanding further here. Those interested in roles at Guidewire should keep an eye on the company's career page.
We're delighted to announce that iRadio's Michaela Hayes will present Jobs Expo TV, live from Jobs Expo Dubin at Croke Park on Saturday, 26th March (10am-4pm). Michaela will broadcast via Facebook Live, Youtube and Jobsexpo.ie from the event, speaking to employers, speakers and career coaches.
Join us on the day by registering for your free ticket by clicking here. 
This Saturday Jobs Expo will feature two seminars areas in the Hogan Suite. The Employers' Seminars will be hosted by Robbie Kane. Catch some great talks by our exhibitors from 11am - 3pm. Don't forget to register for FREE ADMISSION right here.
About Robbie Kane
Robbie has worked in media the last thirteen years having been a Presenter on Dublin's Q102, a Reporter on Classic Hits (formerly 4FM) predominantly for the Niall Boylan Show, and sporadically Presenting / Reporting also with Radio Nova and FM104!
At present he's working full time as a Roving Reporter with Dublin Live which entails him Interviewing people on their Facebook page daily.
The Employers' Seminars
Robbie will moderate the day of talks and webinars that'll be delivered by our diverse list of guest speakers. The Employers' Seminars will feature an eclectic range of talks suitable for jobseekers and career professionals looking for new opportunities. The topics that will be discussed will be:
The diverse career paths you can take at Aramark
What the Servisource team can do for YOU today!
There are 80,000 remote jobs available in Ireland today - learn how you can access them with Grow Remote
Let your career take off with Dublin Airport - Asset Management
Making a Difference: Working for the Fingal County Council
A chat with Western Development Commission CEO, Tomas O'Siochain.
TEFL course, your ticket to teaching online & abroad
Career in Healthcare in Ireland, Opportunities with Orpea Ireland
Jobs Expo Dublin returns to Croke Park this Saturday. In addition to the great selection of exhibitors on the day, there will be an excellent line-up of guest speakers on our Agenda Stage. Spin 1038's, Nathan O'Reilly, will be the Agenda Stage compère between 10:30am and 4pm. Don't forget to register for your FREE TICKET.
About Nathan
Nathan O'Reilly is an award winning radio host and TV personality. He has been co-presenting the breakfast show on Spin 1038 for the last 4 years. He recently received worldwide recognition for an interview with Matt Damon while he was in lockdown in Dalkey and appeared on several prominent TV shows including ABC's 'Good Morning America' and 'The Late Show' with Stephen Colbert on CBS.
The Agenda Stage
Nathan will moderate the day of talks and webinars that'll be delivered by our diverse list of guest speakers. The Agenda Stage will feature an eclectic range of talks suitable for jobseekers and career professionals. The topics that will be discussed will be:
Top 10 tips for an effective CV
Career Paths in the Tech Sector
High performance success without stress
Everything you wanted to know about career change but were too afraid to ask
Is a job just to pay the bills and a career something you're interested in?
Returning to work or changing careers: The key skills and qualities employers are looking for
Positive psychology at work
21st Century Careers – Catching the Wave
Am I in the wrong job?
The Belfast-based gaming start-up, Rocket Flair Studios is set to create numerous new jobs. The business is best known for its immersive PC game, an ancient Egyptian city-building game named Dynasty of the Sands.
They will be creating a total of 14 new positions in areas such as lighting and animation, engineering, QA, full-stack and front-end development, and more. Invest NI has provided the business with £98,000 to support the creation of these positions, eight of which have already been filled.
The business announced its hiring plans after the closure of a multimillion-pound deal with a global games developer. In addition to expanding its team, the start-up will be investing £700,000 in its operation to fulfill its contract with the games developer.
The business was founded in 2017 and focuses on utilising immersive technologies like VR and AR to develop specialist city-builder games that can be played on the PC. It created Dynasty of the Sands which was a mythical ancient Egypt city-builder game.
Their managing director, James Bradley has said they are excited that their product offering had resulted in them securing a multimillion-pound contract with a significant international games developer. He also said this is a massive step forward for the company and that expanding the workforce will give it the specialist expertise and capacity it needs to deliver upon the terms of the contract.
A team member from Invest NI has said that Rocket Flair Studios has a brilliant understanding of the international gaming sector and has created a niche with its current game that achieved global recognition.
An Garda Siochana is hiring for full-time positions nationally. They hope to find people with a special set of skills and will be recruiting for data and crime analysts. Those who are best suited for the positions will be creative problem solvers that enjoy working with quantitative and qualitative data. In addition, those who have good written and oral communications skills are dedicated to achieving quality results against tight deadlines.
The data and crime analysts will be responsible for giving information to support operational and strategic policing, analysing and combining data from a range of sources, raising awareness of patterns and trends, and much more.
Those who are successful will complete a five-week training programme which is expected to be held in Templemore.
The job description says: "An Garda Siochana is in the process of building a data ecosystem (or a system of data value chains) that ensures the same data is used for both operational and analytical purposes, as envisaged in the Government strategy APSFF."
"Reporting to a Senior Analyst, those appointed will work directly as part of police investigation and management information teams."
"They will leverage data from multiple sources to support better outcomes for victims and inform organisational decisions through information-led policing. Given the rapid digitisation of society and crime, those appointed will regularly have opportunities to think of new and innovative ways of solving problems and crimes, and contribute to the development of new formal methodologies/approaches to data analysis."
People who are interested can visit this link for details on how to apply.
Signify Health, the US healthcare platform is set to create 125 new positions as a result of opening a new tech centre in Galway. They currently employ 2,000 individuals in the US.
The company uses superior technology, analytics, and nationwide healthcare provider networks. They have said the new positions will come into place over the next two years.
The tech centre will drive technology innovation for the company and be situated in Galway city. It will transform how US healthcare is delivered and paid for. The company was established in 2017 and provides technology-enabled services to patients, providers, and payers. In addition, they have a national mobile network of around 10,000 nurse practitioners and physicians.
Chief Technology Officer at Signify Health, Josh Builder has said: "The team at our Galway technology centre will be designing solutions that solve some of US healthcare's most difficult and elusive problems. Our success will depend on being able to apply a diverse set of experiences to the challenges we face in enabling a patient-centric, cloud-based environment that brings healthcare wherever health happens."
He adds: "We know first-hand that Ireland is home to professionals who not only have the experience we need, but who are energised to opportunities to make a meaningful difference in healthcare, and we are excited to now also call the west of Ireland home."
The company will be looking to fill a number of positions in software engineering and project management. They will also be looking to hire scrum masters. Those interested in the positions to come should keep an eye on the company's website.
The US communications analytics and technology company, PublicRelay has announced it will be creating 10 new roles in Cavan. This expansion will take place over the next few months and is happening because the company is taking on more office space in Cavan Digital Hub.
This is where the Irish operation is currently based but they also have an office in Dublin. The company's Irish-based workers will be returning to the office soon following the implementation of a hybrid strategy. They are now planning to grow their team with roles including associate analyst and media analyst.
The company provides media analytics and monitoring technology for brands. They are headquartered in Virginia and opened their second office in Ireland in 2019. The Cavan office was opened with just two team members. Since then, the team has grown to 17 and is expected to grow by a further 10 with the most recent recruitment drive over the next few months.
Karl Finn, Director of Irish Operations at PublicRelay said: "We are excited to be scaling up in Cavan with the continued support of IDA Ireland, Cavan County Council, and the team at Cavan Digital Hub. Cavan is a great location and the facilities at the hub and the support of the hub's management have enabled us to focus on growing our team here. We have been fortunate on growing our team here. We have been fortunate to attract some great talent and they have been instrumental to our success in the region. I'm very confident that our current recruitment campaign will be just as successful."
They have now secured the whole top floor in the Cavan Digital Hub and the manager at the hub, Leanne Connell has said the expansion illustrates the commitment to Ireland and Cavan.
Spearline has announced it will be doubling its global workforce with the creation of 106 new positions. The business is headquartered in Cork and provides maintenance and telecoms testing globally. Remote working will be available to those who fill the roles available at Spearline.
A minimum of 38 of these positions will be available in Ireland and a large chunk will be in the US as Spearline plans to establish a team here so they can grow globally. Those who apply in Ireland are also invited to apply for remote work at any of their offices across the globe. This decision comes as the company wants to provide its workforce with hybrid and remote working options. The roles available will be across finance, HR, customer engagement, product engineering, operations, sales, and marketing.
CEO of Spearline, Kevin Buckley said: "We are delighted to announce we will be expanding our workforce in Ireland and internationally." Kevin Buckley founded the business in 2003 alongside Matthew Lawlor.
Their headquarters is situated in Skibbereen, County Cork, and employs around 120 individuals across its locations which include Romania, Bucharest, India, Ahmedabad, and Waterford in Ireland.
The company is adopting a modern hybrid working approach post-covid and in addition to the Irish roles, they plan to fill roles in the US and India. This round of recruitment will be completed by the end of 2022 and more jobs are expected to become available in 2023.
The telecommunications business monitors toll and toll-free numbers globally for audio quality and connectivity. It counts Mastercard and Zoom amongst its clients and is a six-time winner of the Deloitte Fast 50 Awards. The business has unveiled its plans to set up a US office following its acquisition of TestRTC, the Israeli tech firm. The roles available currently are listed on Spearline's website here.