Jobs Expo Galway returns to Leisureland's Events Centre on 17th September. In addition to recruiters exhibiting at our jobs fair this autumn, we will be running a series of live seminars from 10am to 4pm. Think4Purpose founder, Fiona Fennell, will be giving her live presentation, What Tom Hanks can teach us about resilient careers, at 1pm on our Agenda Stage. Furthermore, she will be offering jobseekers guidance at the Career Clinic. You can register for FREE ADMISSION for this live event right here.
About Fiona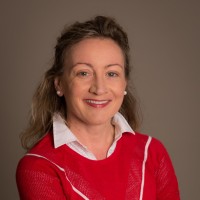 Fiona offers Career and Performance Coaching to STEM professionals and those working in highly-regulated sectors. She is an Organisational Behaviourist with a Masters' Degree in Innovation from the National Centre for Quality Management, the University of Limerick.She helps people to learn not what but how to think in order to work confidently and manage risk effectively, particularly in the face of uncertainty. Fiona applies ideas from systems theory, neurobiology and cognitive science to help teams solve complex problems and individuals achieve resilient careers.
Learn more about Think4Purpose Career Essentials Programme right here.
T4P Career Essentials Programme
Are you eager to progress in your career within the construction sector? We are excited to have JJ Rhatigan & Company return to exhibit at Jobs Expo Dublin. On Saturday,15th October, you can chat with their recruitment team and hand in your CV between 10am and 4pm at Croke Park's Cusack Suite. Register for your FREE TICKET today and learn more about the great career opportunities at JJ Rhatigan.
About JJ Rhatigan & Company
JJ Rhatigan & Company is a Tier 1 Main Contractor headquartered in Galway, with offices in Dublin, Cork, Sligo and London. Founded in 1952 by John J Rhatigan, the company has been setting standards in the construction industry while staying true to its family roots ever since.
Independently ranked in the top ten contractors operating in the Irish construction market, JJ Rhatigan & Company has recorded substantial growth over the past five years, delivering no fewer than 3,500 homes nationwide, for both the public sector and the private sector. Over the same period, the Galway-headquartered company has also delivered more than 12,000 school places, 9 new third-level campus facilities, 2,000 student accommodation bedrooms, close to 1,300 hotel bedrooms, 16 healthcare facilities, and over 40,000m2 of office and commercial space in key locations around Ireland. JJ Rhatigan is currently involved in 17 projects across Ireland and the UK, with a combined value exceeding €1.08 billion.
Significant management progressions within the organisation have positioned JJ Rhatigan & Company to avail of large-scale opportunities into the future. Continued investment in the progression of the team ensures the business can carry on the tradition of quality and innovation, while delivering on environmental, social and governance (ESG) commitments across projects and business activities.
The company's objective is for a steady sustainable growth over the next five years strengthening its position as a competitive, innovative, safe and sustainable Tier 1 construction services company. With over 420 employees, staff levels are continuing to grow steadily across its five locations ensuring the delivery of the current workload and new secured projects.
JJ Rhatigan is in construction for the long-term, to nurture relationships with existing and new clients and to copper-fasten partnerships across its supply chain. The company has a well-deserved reputation for delivering complex, large-scale developments on time and on budget. The collaborative work culture and dedication to innovation and technology are and will continue to be the key to its success.
From a recruitment perspective, JJ Rhatigan & Company is always seeking out enthusiastic and committed people at all levels.  They recognise that the quality and dedication of their staff is the key to their success – they are the company's greatest asset! They operate a business that values and rewards employees. They place a strong emphasis on Continuing Professional Development, broad-based employee nurturing and dedication to employee training. Employees are provided with on-going mentoring and exposed to a breadth of challenges across varying sectors and projects. Furthermore they promote a working environment of respect and fairness, while encouraging collaboration and interaction among staff.
As JJ Rhatigan & Company continues to grow across a number of sectors and areas of operation, they are actively seeking to fill the following roles:
Building Services Coordinator – Galway
Contracts Manager – Dublin, Limerick & Cork
Electrician – West of Ireland
Junior Quantity Surveyor – Dublin, Cork
Junior Site Engineers – Dublin, Limerick, Cork
M & E Coordinator – Dublin, Limerick & Cork
Quantity Surveyor – Cork & Dublin
Quality Engineer – Dublin
Design/Technical Manager – Dublin
Senior Site Engineers- Cork, Dublin, Limerick
Site Formen – Limerick, Cork & Dublin
Site Manager – Limerick, Cork & Dublin
Site Technicians- Limerick, Cork & Dublin
Project Manager – Dublin, Cork, Limerick
To find out more about these roles visit: https://www.jjrhatigan.com/current-opportunities/
If you feel you have the required skills and experience, JJ Rhatigan would be interested in hearing from you. Please send your CV to: recruitment@jjrhatigan.com
This is a great opportunity to join a prestigious main contractor.Attractive terms of employment will be offered to suitable applicants.
We are happy to announce that Resilience will be returning to recruit at Jobs Expo Galway this autumn. Their team will be available to chat and take CVs between 10am and 4pm inside Leisureland's Events Centre on 17th September. This is a free event, but you will need to register beforehand. You can do so right here.
Who are Resilience?
Since 2011, high-growth Irish owned company Resilience has continued to lead the way in transforming healthcare in Ireland. Their essence is to help build resilience in the people they support to bring the possible to life.
They provide specialist at-home nursing for people with complex medical needs. Furthermore, they provide Residential, Day and Outreach Services for people with Disabilities and Autism. They look for passionate, motivated people to join our team.
They focus on realising potential, both of the people they support and their employees. Be inspired by a career with purpose and their rewarding culture that celebrates success, with flexible career options to help you achieve a better work-life balance.
Are you eager to upskill so you can advance in your career? Interested in studying, but need to find a flexible course that fits your schedule? Chat with eCollege this autumn at our Jobs Expo events. Registration for these career fairs is free and you can get your ticket right here.
About eCollege
eCollege is the national further education and training online learning service, run by SOLAS. eCollege operates on a continuous intake basis and offers flexible, fully online learning opportunities leading to certification in a broad range of subjects. There are over 30 programmes on offer to enhance your digital skills in the work place or at home. Subjects range from the International Computer Driving License [ICDL], to Digital Marketing to Project Management and Computer Programming.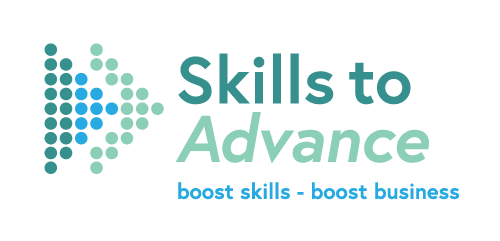 eCollege offers very flexible online learning and is ideal for those wishing to study at their own pace around their work and life commitments. Skills to Advance aims to equip employees with the skills to progress in their current job, or to take advantage of new job opportunities. It is a SOLAS upskilling scheme for employees,  provided by your local ETB Training Centre. Talk to their dedicated staff to access in-person training to suit your occupation.
You can meet them at Jobs Expos in Galway, Dublin and Cork this autumn to find out more about what eCollege and Skills to Advance can offer you.
In addition to the fantastic line-up of exhibitors at this autumn's Jobs Expo events, these career fairs will feature live talks and professional career and business coaches. Emma Boylan will be available to give career advice and be giving her talk, How to stand out on LinkedIn, at our Galway, Dublin and Cork expos. You can register today for your FREE TICKET to any or all if these events right here.
Who is Emma Boylan?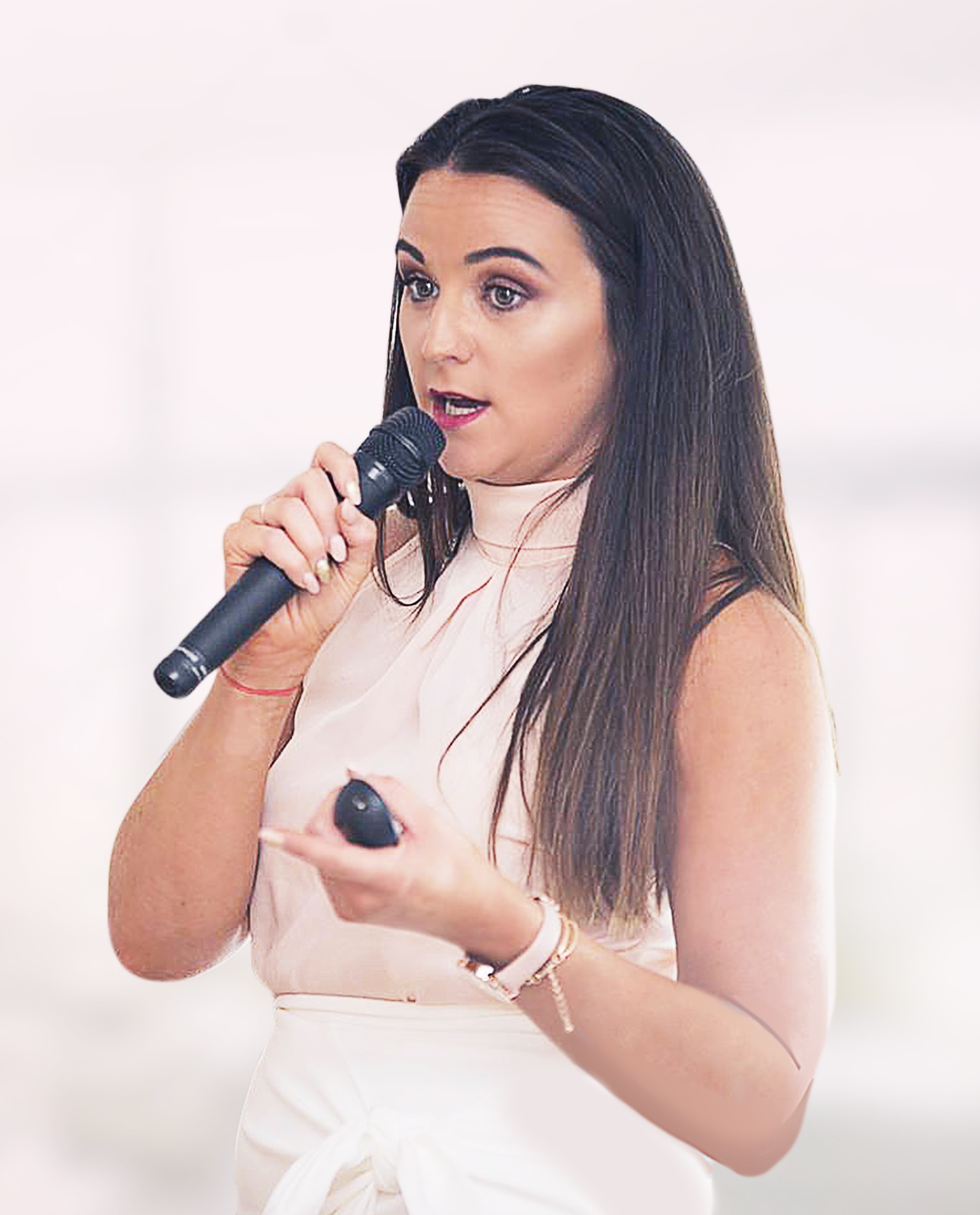 Emma is an international business and marketing coach and speaker and has worked with
clients and delivered workshops and training all over the world.
Emma helps clients to stand out, reach their ideal client and she's put many clients on a faster
path to more money, by doubling and tripling their income
She left her 9 to 5 job 9 years ago to fulfill her dream of starting her own business; when she
saw that most marketing was all the same and that businesses were really struggling to attract
the right clients and have a message that made them different. Using her passion for creative
content and background in psychology, over the 9 years, Emma built a business that has served
100's of businesses all over the world, helping them get crystal clear on their message, so they
stand out get noticed and fill their businesses with clients in record time!
Emma has a new exciting Instagram programme that can be done online, in your own time – www.emmaboylan.com/Instagram
Get in contact with Emma ; emmaboylanpr@gmail.com / www.emmaboylan.com
We are very excited to have Viatris exhibit at our upcoming Jobs Expo career fairs this autumn. Are you looking to advance in your career within the pharmaceutical manufacturing sector in Ireland? Their recruitment team will be available to chat and take CVs at Jobs Expo Galway, Dublin and Cork. You can register to get your FREE TICKET to all three events right here.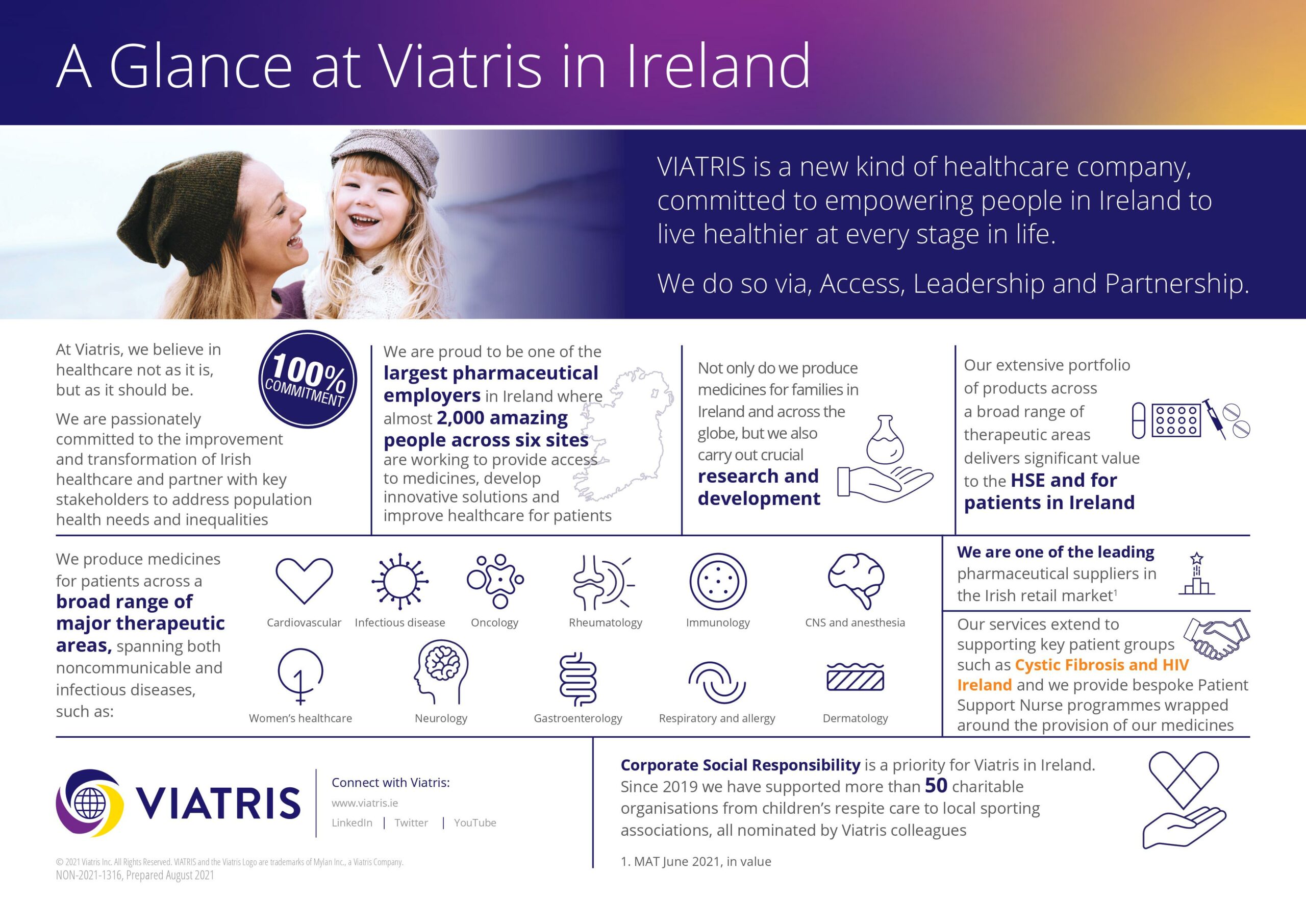 Who are Viatris?
Viatris in Ireland has long and strong roots where they have had a presence in the country for more than four decades. What's more, Viatris has significant scale and is proud to be one of the largest pharmaceutical employers in the country, where nearly 2,000 highly skilled people work across six sites in Cork, Dublin (4) and Galway.
Viatris has a corporate office that is also a global and regional hub for many business functions as well as five manufacturing facilities. These sites are responsible for producing quality medicines from oral solid dosage forms such as tablets and capsules, sterile injectables that cover a wide range of therapeutic categories to complex branded and generic inhaled products. They also produce and supply active pharmaceutical ingredient, the central component of medicine.
Not only do they produce medicines, but they also carry out crucial research and development and, collectively, everyone works to provide access to medicines, develop innovative solutions and improve healthcare for patients.
Are you searching for a new job this autumn? Do you want to gain experience in a variety of industries all under one roof? Abtran will be exhibiting, as well as recruiting, a our autumn careers fairs in Galway (17th September at Leisureland) and Cork (5th November at City Hall). Their team can discuss the great job opportunities available and take your CV. Don't forget to register to get FREE ADMISSION on the days.
About Abtran
Abtran is Ireland's leading home grown provider of Business Process Management services. Headquartered in Cork, Abtran has a strong international reputation in the business process outsourcing market and customer contact centre, back office administration and technology services and expertise to a wide range of corporate and public sector clients.
For the past 25 years, they have connected with millions of customers on behalf of trusted brands across the Financial Services, Utilities, Transport, and various Government sectors. Abtran help their clients provide award winning services to their customers and to achieve better business outcomes through their people, processes and advanced technology solutions. They standardise, they simplify, and they empower their people to cut through complexity. They are a people business – it is their people who have been central to their capability to deliver great service every day and the growth they have experienced over the last number of years.
With their extensive client base, tremendous opportunities exist to work with a diverse and creative team and gain experience in a variety of industries. Furthermore, they have a clear commitment to training and career development of their people. The Abtran Academy ensures you follow a pathway for progression within the Business. Whichever area you join you can expect to work with energetic, customer focused and motivated individuals in a modern environment. Additionally, they have opportunities to work from home on a full time basis.
Abtran is an open, supportive and fun place to work. You will be welcomed in an environment where people's contributions are valued and respected and essential to how we grow and evolve the business.