Whitbread is the owner of Premier Inn, the UK's biggest hotel brand, and with a growing presence in Germany offering quality accommodation at affordable prices. With over 840 hotels in the UK and over 83,000 rooms in great locations, you'll never be far from a Premier Inn. Employing over 35,000 people in over 1,600 Premier Inn hotels and restaurants across the UK, and serving over five million customers every month, people are at the heart of our business. Our expansion into the Republic of Ireland has just started and we are excited to see our business grow here!
Our purpose is to provide quality, affordable hotels for our guests to help them to live and work well and to positively impact the world around us. With no barriers to entry or limits to ambition, to provide meaningful work, skills and career development opportunities for our teams.
Our ambition is to be world's best budget hotel. We strive to embody our core values every day by being genuine, really caring about our customers; confident, striving to be the best at what we do; and committed, working hard for each other.
We're hospitality experts, running some of the UK's most-loved brands and operating over 840 hotels across the UK and Germany as well as some of the UK's favourite restaurant chains. Whether we're providing great food and comfy rooms for our guests or working with charitable causes through our Force for Good programme, we work hard to consistently deliver on our service and standards.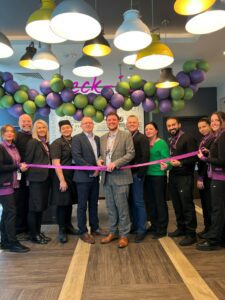 Nostra helps business owners build a reliable, secure, and scalable IT foundation.
We do this by removing the risk that comes from relying on overstretched IT managers and generalist service providers, where we increase the visibility of IT risks, and create a clear plan to a reliable foundation so you can grow your business with confidence.
At Nostra, people are at the heart of everything we do. Ongoing personal development is a huge part of our core values. We have diverse opportunities with continuous opportunities to grow, develop and be a leader. We don't want to offer just jobs. We offer careers to ambitious professionals who care about both themselves and our customers. We have multi department opportunities with multi-level skill sets as well as a graduate program for engineers.
The National Ambulance Service (NAS) is the statutory pre-hospital emergency and intermediate care provider for the State.
In Dublin, emergency services are delivered directly by the NAS and Dublin City Council (DCCvia Dublin Fire Brigade. The NAS mission is to serve the needs of patients and the public as part of an integrated health system, through the provision of high quality, safe and patient-centred services.
This care begins immediately at the time that the emergency call is received. Resources are dynamically deployed to the place where cover is required. We respond to incidents as they arise to ensure the nearest available resource responds to emergencies.  All 112/999 calls are clinically triaged based on the patient's condition. The nearest available and most appropriate response is dispatched, with the most urgent calls prioritised. Where a patient requires emergency care in hospital, we transport them to the Emergency Department and complete a handover of the patient to the clinical team.
Every year NAS receives between 275,000 and 280,000 emergency calls. NAS currently employs approximately 2,000 staff across 100 locations and deploys approximately 250 vehicles daily.
The NAS Critical Care and Retrieval Service provides a comprehensive inter-hospital Retrieval-Transfer system for seriously ill infants, children and adults. This  involves the timely retrieval of patients to an appropriate centre to receive definitive care.
NAS in conjunction with the Irish Air Corps and the Department of Defence operates an Emergency Aeromedical Service.  The service, based at Custume Barracks, Athlone, is staffed by an Air Corps flight crew and an NAS Advanced Paramedic.  This service has greatly reduced scene to hospital times in more rural parts of the country.
Aeromedical Services are also provided by the Cork based Irish Community Air Ambulance which has expanded to also provide a dedicated Helicopter Emergency Service. ICAA provides this service in partnership with the NAS in the South West.
The NAS College provides a paramedic programme which is degree level and takes three years. There are currently over 200 Student Paramedics are different stages of the programme. NAS also provides training for Emergency Medical Technicians and Emergency Call Takers.
In line with international trends NAS is moving from an Emergency Medical Service (EMS) to a Mobile Medical Service (MMS) which aims to deliver the right patient care in the right setting. A new Strategy is being developed for NAS and through its implementation the service will move towards a more multi-dimensional urgent and emergency care provision model which is safe and of the highest quality.
The ultimate aim is to improve patient outcomes whilst ensuring appropriate and targeted care delivery.
Manning the NAS stand will be frontline grades from the service along with representation from NAS HR Department, NAS Education and Competency Assurance Team and the National Emergency Operations Centre. The NAS will be able to provide you with an insight from the recruitment process right through to what it is like to work at the frontline of a National Emergency Service.
Build your career with Abtran
At Abtran, people are at the heart of everything we do. We're passionate about great service, and from our Customer experience agents to our IT developers, we strive to create a place that develops you and your career.
We are committed to providing you with career advancement opportunities. This is not just talk, but a key focus of our Sustainability strategy. With our "Abtran Academy" which takes you from your first days through to senior leadership roles, and our "Tuition Assistance Programme" we want you to grow and develop and provide you the tools to do so.
We have a proud culture of sustainability. Our purpose is to make a positive impact in reducing environmental harms and maximising the contribution we make to society. We have ambitious targets under our 3 pillars that we live by here in Abtran: Happy Society; Healthy Planet; Thriving Economy.
Established and headquartered in Cork since 1997, you'll be joining the leading provider of business process management services, employing over 2,000 people throughout Ireland.
We connect with millions of customers on behalf of trusted brands in Energy & Utilities; Health; Transport; Financial Services; Telcomms, Media & Technology; Government & Education sectors.
Find out more about remote and hybrid opportunities with the leading digital and customer experience expert in Ireland and see where your career can go.
Contact us at careers@abtran.com / www.Abtran.com
Daikin is the world's leading manufacturer of air conditioning, heating & cooling systems for commercial, residential and industrial applications.Founded in Japan in 1924,  the European operations commenced 50 years ago. Daikin is sold in 160 countries worldwide and employs over 88,500 worldwide.
The Irish office, based in Citywest Business Campuswas established in 2006, employs almost 50 staff in sales, marketing, engineering, accounts, service & maintenance. Product support, both pre and post-sale, is the cornerstone of our business model.
Our dedicated teams as are set out as follows:
Residential sector - heating products: air to water / air to air heat pumps for new build & retrofit markets
Commercial sector- DX products: split systems, VRV, ventilation & refrigeration systems – Hotels, Data Centres, Offices, Shops etc
Industrial sector– Applied Products: up to 2 MW centrifugal chillers – Pharma, Distribution, Manufacturing etc
Daikin has worldwide manufacturing facilities across the globe including Japan, Thailand, China, Brazil, USA, Belgium, Italy, Czech Republic and the UK, however it must be noted that all product sold in Europe is manufactured in Europe.
Daikin Europe will also invest €300 million in a new purpose built factory in Poland, to manufacture residential heat pump units commencing operations in July 2024.  As the leading company in the heat pump market in Europe, Daikin takes up the challenge to facilitate the societal shift from fossil fuel boilers to heat pumps.To this end we have been strengthening our product development and service capabilities, and now decided to establish a new factory in Poland. This factory will have the largest capacity in the Daikin Europe Group of heat pump systems output. With this investment we aim to achieve the number one market share in each of the major countries.
About Recruit.ie
Recruit.ie (formally BCS Recruitment) are the organisers of all the Virtual Recruitment Ireland events. Since 2012, they have run highly successful careers events in Cork, Dublin, and Galway twice a year. Since the Covid-19 pandemic has caused physical events to take a time-out, Recruit.ie have implemented a virtual platform that allows recruiters and candidates to meet online.
On the day, Recruit.ie will have their own virtual booth and their team can offer guidance to jobseekers on a variety of topics such as interview techniques and professional growth. Their jobseeker services are there to avail of for anybody on the lookout for employment.
Many jobseekers are unsure how to sell themselves to employers. Even if they have all the necessary skills and experience, they can have trouble communicating that. Some candidates underestimate the importance of soft skills, and fail to highlight these says Bronagh Cotter of Recruit.ie.
Successful Recruitment Benefits Companies and Candidates
Successful recruitment should create a mutually beneficial relationship between candidates and companies, asserts Bronagh.
"We aim to find the best fit for both employees and employers. Companies want more than just an employee with skills and experience. They want staff who fit into their company's culture. It is much the same for jobseekers, particularly if they have in-demand skills. Of course, salary is a consideration, but it is not the only one. Depending on their circumstances, their priority could be the potential for promotion, the chance to upskill, travel opportunities or work-life balance," she explains.
"Therefore, we match a candidate's goals and expectations with the right company. It is our firm belief that it is not a job well done unless both the candidate and company benefit. We spend so much of our lives are at work. That means that finding the right fit is crucial."
Lidl burst onto the Irish grocery market in the summer of 2000.  Since then, the organisation has opened over 210 stores across the island of Ireland. They have changed the face of shopping for the better with top quality products made available at the lowest possible prices.
Back story
The very first Lidl store opened in Ludwigshafen in 1973. Since then, the company has expanded throughout Europe. They now operate in over 32 countries, with more than 310,000 employees. As a result, they currently have the largest network of discount grocery retailers in Europe.
Lidl Ireland employs over 5000 employees nationwide. Furthermore, they employ people in various capacities, from a variety of different backgrounds and with different levels of expertise.
Training and Development
Lidl is serious about the career development of their employees. Many of their managers have successfully advanced in their careers, from entry level to managerial positions. All employees receive training and support to reach their full potential and to progress within the company.
Graduate
Lidl is offering an exciting 18-month programme which consists of several modules that will give graduates a full understanding of their business. Whilst on the programme they will receive a bespoke training plan designed around their career path and current skills. They spend some time in stores and warehouses to gain a thorough understanding of the key business areas before entering their chosen department. The programme gives them the opportunity to enjoy both personal and professional development through on-the-job training and a blended learning approach.
Corporate Social Responsibility
Lidl contribute positively to the communities in which they operate. They work with over 200 local suppliers and actively engage in communities across Ireland through charity partnerships, donation programmes and LGFA sponsorship. Alongside their community initiatives, they are also committed to protecting the environment and they also encourage their employees to do so as well.
Find out how to join An Garda Síochána as well as what to expect during training, and information on the Garda Reserve, and civilian opportunities in the organisation. You can chat with their team at Jobs Expo.
Policing is an exciting job with unique demands. It is a challenging and exciting role and one which continually presents new and interesting experiences. Modern policing entails much more than crime prevention. Reducing the fear of crime and working in partnership with communities are the keys to making a positive difference and improving quality of life for all citizens.
Members of An Garda Síochána, operate on the front line, supporting victims and witnesses, providing reassurance and instilling con­fidence. Gardaí are in a position to make a proactive contribution to their local area, building relationships and trust within the community. Garda training provides the tools needed to carry out the necessary functions and tasks expected for policing an increasingly diverse society.
Policing is intrinsically rewarding and Gardaí receive a competitive salary with attractive allowances. To reach trainee stage however, applicants must go through a rigorous selection process, designed to assess whether you have the qualities necessary to become a successful member of An Garda Síochána.
After training a career in An Garda Síochána presents opportunities to work in a wide variety of fields including regular policing duties or more specialised units such as Community Policing, Roads Policing, Public Order, Detective Duties, investigating Organised Crime, Fraud and Drugs Offences.
An Garda Síochána is committed to creating a policing service that is fully representative of all diverse communities in Ireland and actively encourages applications from all eligible candidates.
The people of Johnson & Johnson (J&J) believe good health is the foundation of vibrant lives, thriving communities, and forward progress.
Founded in 1886, Johnson & Johnson have aimed to keep people well at every age and every stage of life for more than 130 years. Today, Johnson & Johnson is one of the world's largest and most broadly-based healthcare companies. Every day, more than 130,000 employees across the world are blending heart, science, and ingenuity to meet the company's purpose to profoundly change the trajectory of health for humanity.
Operating in Ireland since 1935, Johnson & Johnson is one of Ireland's leading employers, with a workforce of more than 5,000 highly skilled and motivated people across 10 locations, spanning five counties. J&J's operations in Ireland touch all aspects of human health, from consumer health products to pharmaceuticals, medical devices, and vision.
Healthcare is changing rapidly. Innovations in science, digital technology, and new ways of thinking are improving how people are cared for around the globe, and J&J is at the forefront. The company has invested more than €2BN to expand these capabilities across its Irish sites since 2012.
J&J is one of the largest life sciences investors and employers in the region, and right in the heart of Cork's life sciences hub. The company's operations in Cork are at the cutting-edge of delivering healthcare solutions and play an important part in J&J's global manufacturing network.
Three of J&J's four main manufacturing facilities in Ireland can be found in Cork: Janssen Sciences and DePuy Ireland in Ringaskiddy, and Janssen Pharmaceuticals, based in Little Island. Johnson & Johnson Vision Care, one of the world's largest contact lens manufacturing facilities, is based in Limerick, Med Tech, R&D facilities in Cerenovus based in Galway.
Stryker is one of the world's leading medical technology companies and, together with its customers, is driven to make healthcare better. The company offers innovative products and services in Medical and Surgical, Neurotechnology, Orthopaedics and Spine that help improve patient and healthcare outcomes. Alongside its customers around the world, Stryker impacts more than 100 million patients annually. For more information on how to join our award winning team, visit careers.stryker.com
About Remitly
Remitly is on a mission to transform the lives of immigrants and their families by providing the most trusted financial products and services on the planet. Since 2011, we have been tirelessly delivering on our promises to immigrants sending their hard earned money home. Today, we are incredibly proud to have served millions of customers globally with Remitly and our newly launched Passbook app to provide immigrants access to banking. We strive daily to meet our promise to our customers by building peace of mind into everything we do. Join over 1,900 employees across 9 offices who are growing their careers while having a positive impact on people globally.
Role Summary
The Customer Protection Associate will oversee daily fraud screening and compliance workflows to ensure timely delivery of customer transactions. This role will be primarily responsible for investigating suspicious activity, escalating cases where regulatory reports may be required, and working upstream with internal tools teams to systematically eliminate unwanted activity from the Remitly platform. You will be a key member of our operations team in Cork, Ireland helping to ensure a strong process for risk management and governance on fraud prevention and control.
Founded in 2007, Wisetek is a global leader in IT asset disposition (ITAD), secure data destruction, reuse, and technology manufacturing services worldwide with facilities across the globe in Ireland, the UK, the USA, the Middle East & Africa, and Thailand.
Wisetek offers a wide range of services that include IT Asset Disposition, Manufacturing & Fulfillment, Data Centre services, Data Destruction Services, Hard Drive Shredding & Destruction, Remote IT Services, and Certified Recycling.
Wisetek's team of staff consists of over 400 skilled professionals across EMEA, APAC, and USA and includes the following functions: Supply Chain, Operations, Engineering, Quality, Compliance, Sales and Marketing, IT, HR, and Finance.
Wisetek is a company focused on environmental sustainability and committed to the principles of the Circular Economy. Wisetek bases the entire business process on protecting the environment by operating a Zero Landfill Policy and reducing the amount of electronic waste going into landfills.
Wisetek has a dedicated environmental committee as well as a Corporate Sustainable Initiatives programme in with the objective of continually improving the internal environmental policies and processes at its facilities across the globe.
In October 2021, Wisetek launched its new consumer e-commerce website, Wisetek Store, selling high-quality refurbished IT equipment. Wisetek Store was established with the company's core value of sustainability in mind, as it promotes the use of refurbished items, an environmentally friendly alternative to manufacturing new equipment.
Wisetek's plan is to continue to grow and develop while maintaining the high standard of service our customers are accustomed to, and we are looking for driven and dynamic people who want to make a difference to join us on this journey.
CAREER OPPORTUNITIES

 Across all parts of our company, we strive to create a team that is innovative, hardworking, and passionate about our business. We want talented individuals who love a challenge and are keen to make a difference.

Benefits of Joining Our Team

Opportunity to work in an innovative, rapidly growing company
Education Programme and Development Opportunities
Opportunity to join our match contribution Pension Scheme
Additional Leave based on service
Corporate/Discounted Health Insurance
Secondments Abroad
Company Social Events
CSR Activities

If you are interested in progressing your career with Wisetek we would love to hear from you.

For more information about our job opportunities visit our careers page: https://wisetek.net/careers/featured-jobs/

Contact us for further details if you have any queries about job postings.

Laura Devereux - laurad@wisetek.net

Sinead Malone - sineadm@wisetek.net

Eleanor Lester -  eleanorL@wisetek.net