Connect. Develop. Inspire.
With Cairn, you will be working on some of the most exciting residential construction projects across Ireland.  So whether you are starting out on your career journey, or are experienced and looking for a new challenge, we would love to hear from you.  Together we can Connect, Develop and Inspire Ireland's future.
Making a real impact
As Ireland's largest house builder, we bring together the most talented people across a range of disciplines so we can continue to scale our business and build homes and communities where people love to live.
We are always on the look out for top talent
We are always on the look out for top talent to join the team across Engineering, Quantity Surveying, Project Management, Contract Management and many other disciplines.
Building At Scale Nationwide
As Ireland's largest homebuilder, we are active on over 20 residential sites and have a landbank of over 17,000 across 35 residential development sites nationwide. Since launching our business we have built thousands of new homes, contributed over 100 million euros to public realm and infrastructure, and lead the industry in using innovative new methods of construction and finding better ways to build.
A Great Place To Work
We bring together like-minded people from diverse backgrounds with a wide range of expertise and, together, we create places where people love to live. Find out more about our culture.
The Screwfix Click & Collect service enables customers to pick-up their goods in as little as one minute after ordering online or over the phone.
Screwfix is convenient, straightforward, and affordably priced, helping its trade customers shop 25,000 products over the phone, online, via their mobile or in-person from their local store.
We've worked hard to create a culture of inclusivity and genuine community. We're a company built on teamwork, and the best teams are ones in which everyone can share their view. Whatever your background, however you identify, you'll be listened to, encouraged, and given the tools and training you need to get ahead. You'll always know where you are with us. We're open. We're fair. And we believe in opportunities for everyone.
We're committed to building a better future for our community and our planet. That's why we're doing everything we can in six key areas: eliminating carbon emissions, reducing, and recycling waste, sourcing responsibly, keeping products in use for longer, selling more sustainable products and providing sustainable packaging. We're on a mission to put sustainability at the forefront of everything we do.
Insurance gives us the peace of mind to build happy lives and thriving businesses. Arachas is the Irish for insurance and is Ireland's largest nationwide insurance broker, with a team of over 650 people working towards being Ireland's best broker, according to our customers and employees. With 17 offices around Ireland, our experts provide consultancy on the entire range of insurance products and services, based on our long-standing relationships with clients and providers and unrivalled access to insurance data. Complex insurance requirements are also delivered via innovative sector specific schemes. Consumers trust Arachas for all their personal insurance needs, including home and motor insurance. Arachas is committed to creating an inclusive and diverse workplace and offers flexible working practices. Giving back to our local communities, through sponsorships and charities, close to our values, is important for Arachas and our employees. Arachas is an Ardonagh Group company, the world's leading independent insurance distribution platforms, with a network of over 150 locations with over 9,000 people. www.arachas.ie
Snap-on Incorporated is a leading global innovator, manufacturer, and marketer of tools, equipment, diagnostics, repair information and systems solutions for professional users performing critical tasks including those working in vehicle repair, aerospace, the military, natural resources, and manufacturing. From its founding in 1920, Snap-on has been recognized as the mark of the serious and the outward sign of the pride and dignity working men and women take in their professions. Products and services are sold through the company's network of widely recognized franchisee vans as well as through direct and distributor channels, under a variety of notable brands. The company also provides financing programs to facilitate the sales of its products and to support its franchise business. Snap-on, an S&P 500 company, generated sales of $4.25 billion in 2021, and is headquartered in Kenosha, Wisconsin.
Snap-on's mission is to create value by providing innovative solutions to the transportation service and industrial markets worldwide. Snap-on has long been the leader in producing the highest quality hand tools for the professional technician, but today, Snap-on is more than a hand tool company. Today, Snap-on surrounds its customers with a full range of capabilities.
Snap-on's present and future success is driven by its competitive advantages. These advantages give substance to Snap-on's ambitions, shape its strategies and define the essence of its value as an investment and an institution. Snap-on has assembled the industry's most complete portfolio of technology solutions and has the development capabilities to address the service challenges of tomorrow.
The Cork facility is one of several Snap-on global engineering sites and employs over 70 development professionals. The Vehicle Communication Software (VCS) team consists of 30 people within the Cork facility, operating within a wider team of employees located in the US, China, Australia, Brazil and Mexico.
Enable Ireland is a leading national voluntary organisation which provides essential services for over 13,000 children and adults with disabilities and their families. We require dedicated employees, with a flexible and adaptable approach, to help support our work with children and adults with disabilities in Ireland. Ranked No. 8 in Ireland's Best 150 Employers Survey 2022 (Health Care Category)
If you want to join a thriving, dynamic team focused on excellent service provision, then Enable Ireland is the right place for you.
Cope Foundation is one of the largest providers of disability services and supports in Ireland. We support over 2,800 people with an intellectual disability and/ or autism to live 'Your Life, Your Way' across a growing network of 70+ locations.
We work to enhance the lives of people with an intellectual disability and/or autism; working in partnership with them, their families and local communities to provide a broad range of person centred services and supports.
Benefits of a Career in Cope Foundation 
Cope Foundation is a section 38 organisation funded by the HSE and these positions provide attractive benefits such as:
Payment in line with the consolidated salary scales from the department of Health and Children
Membership of the Single Public Service Pension Scheme
Sick leave paid in line with the public sector sick pay scheme
Paid Maternity Leave/Paternity Leave
Staff training
Employee Assistance Programme provided by Vhi
To learn more about a career in Cope Foundation visit: www.cope-foundation.ie/Contact/Recruitment-and-Jobs
About Viatris
Viatris was founded amid the COVID-19 pandemic and at a time of evolving healthcare needs.
A global pharmaceutical company, Viatris became operational in November 2020, following the merger or two major companies – Mylan and Upjohn – and they have an ambitious mission: to empower people to live healthier at every stage of life.
Viatris in Ireland
Although a newly formed company, they have long and strong roots in Ireland where they have had a presence for more than four decades. What's more, Viatris has significant scale and are proud to be one of the largest pharmaceutical employers in the country, where nearly 2,000 highly skilled people work across six sites in Cork, Dublin (4) and Galway.
Viatris has a corporate office that is also a global and regional hub for many business functions as well as five manufacturing facilities. These sites are responsible for producing quality medicines from oral solid dosage forms such as tablets and capsules, sterile injectables that cover a wide range of therapeutic categories to complex branded and generic inhaled products. They also produce and supply active pharmaceutical ingredient, the central component of medicine.
Viatris Mission
At Viatris, they see healthcare not as it is, but as it should be. They act courageously and are uniquely positioned to be a source of stability in a world of evolving healthcare needs. Viatris empowers people worldwide to live healthier at every stage of life.
Committed to Corporate Social Responsibility
PATIENT HEALTH
An industry leader with products that are capable of addressing nine of the top 10 causes of death globally and serving more than 165 countries and territories including close to 90% of low and lower-middle-income countries.
EMPLOYEE HEALTH
Committed to providing a safe, positive, and productive work environment that fosters inclusion, integrity, dignity and mutual respect.
COMMUNITY HEALTH
Support efforts to enhance the quality of life and meet needs in and around the communities where Viatris operates.
ENVIRONMENTAL HEALTH
Responsible environmental stewardship and promoting safe and sustainable operations is a priority.
GLOBAL PUBLIC HEALTH
Leverage their global footprint to advocate for responsible public policy, prioritizing patient health, access to medicine, including in low-income countries, and the acceptance of generics and biosimilars
BestDrive by Continental are Ireland's largest independent car maintenance company. We have over 30 locations around the country and are seeking staff at all grades to come and join us on our journey of expansion.
BestDrive are a full service solution provider so we broadly look after everything for our customers car other than actual bodywork repairs. Staff are essential to the growth we have experienced in the past 5 years, and that is why we want to continue to add to our talent pool by recruiting new staff with or without experience and we have a number of vacancies in various roles right across the network.
BestDrive by Continental – You drive, we care.
Whitbread is the owner of Premier Inn, the UK's biggest hotel brand, and with a growing presence in Germany offering quality accommodation at affordable prices. With over 840 hotels in the UK and over 83,000 rooms in great locations, you'll never be far from a Premier Inn. Employing over 35,000 people in over 1,600 Premier Inn hotels and restaurants across the UK, and serving over five million customers every month, people are at the heart of our business. Our expansion into the Republic of Ireland has just started and we are excited to see our business grow here!
Our purpose is to provide quality, affordable hotels for our guests to help them to live and work well and to positively impact the world around us. With no barriers to entry or limits to ambition, to provide meaningful work, skills and career development opportunities for our teams.
Our ambition is to be world's best budget hotel. We strive to embody our core values every day by being genuine, really caring about our customers; confident, striving to be the best at what we do; and committed, working hard for each other.
We're hospitality experts, running some of the UK's most-loved brands and operating over 840 hotels across the UK and Germany as well as some of the UK's favourite restaurant chains. Whether we're providing great food and comfy rooms for our guests or working with charitable causes through our Force for Good programme, we work hard to consistently deliver on our service and standards.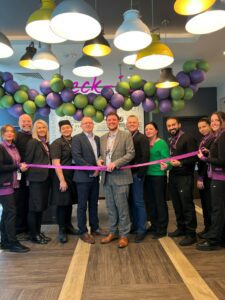 Innopharma Education operates at the forefront of skills and learning in high-tech manufacturing, advancing skills and capabilities across the pharmaceutical, medtech and food science industries. Established in 2009, we work with our education partners to develop and deliver industry-focused and accredited qualifications to meet the needs of Ireland's growing STEM sectors. Specifically designed for those who wish to change or advance their career in the pharmaceutical, medical device or food sectors, our courses upskill and equip people from diverse backgrounds with the knowledge and skills necessary to successfully secure promising career opportunities in these fast-growing sectors.
We're very proud of our role developing the high-tech manufacturing talent the world needs.
Our education courses enable countries to raise the standard and volume of high-tech skills they have, to attract more investment.
They enable people like you to build a rewarding career, contributing to higher standards of living and positive outcomes for millions of people across the world.
About the Nursing Guild
The Nursing Guild specialises in supporting clients when no-one else can. Whether the requirement is last minute, unusual, remote or difficult to cover, the Guild can help at any time of the day or night. They work across Scotland, Northern Ireland and the Republic of Ireland, recruiting to standards which exceed local regulation and guidelines. Furthermore, they offer their healthcare workers hourly pay rates, plus other benefits such as travel and toll costs, NMC & NMBI reimbursement, training and flu vouchers, recognising the level of flexibility and commitment needed to work for them..
The new National Apprenticeship Office is driving reform in the national apprenticeship system under the banner of Generation Apprenticeship, spearheading a range of new initiatives to support both employers and apprentices. The Action Plan for Apprenticeship 2021-2025 sets out a roadmap for a single apprenticeship system and a five-year strategy to deliver on the Programme for Government commitment of reaching 10,000 new apprentice registrations per year by 2025.
Beyond traditional apprenticeships, numbers are set to reach 10,000 apprentice registrations per year under the five-year Government Action Plan aimed at boosting "earn and learn" options for school leavers.
There are now 66 apprenticeship programmes available in new industry areas that include green skills such as wind turbine maintenance and white-collar areas such as international financial services, software, biopharma and supply chain management. Up to 10 new apprenticeships are due to launch later this year, in areas that include farming, horticulture, quantity surveying and civil engineering.
New apprenticeships for accounting technicians, for retail supervisors and in sales are especially popular, and the soon-to-be launched apprenticeships in the area of agriculture and horticulture (applied horticulture, farm management, farm technician, sports turf management) are expected to be in high demand.
Apprenticeships now offer qualifications right up to PhD level, across a broad range of subjects, and also give applicants the opportunity to forge lasting connections with employers, learning on-the-job skills that will set them apart in today's competitive labour market.
Complementing the highly valued craft apprenticeships in the likes of plumbing and electrical, programmes have diversified into new areas such as insurance, financial services, and software development, where learners earn while they learn from day one.
Apprenticeships, which range from between two to four years in duration, have undergone a sea change in recent years, in terms of diversity of subjects on offer but also a renewed uptake of the system. There are now over 26,000 apprentices training in Ireland across 66 diverse Generation Apprenticeship programmes, with 9000 employers on board, from micro businesses to large multinationals and all that is in between.
This accelerated pace of change is being championed by Minister for Further and Higher Education Simon Harris, and overseen by a newly founded National Apprenticeship Office, which brings together policymakers and expertise from SOLAS and the Higher Education Authority, aiming to position apprenticeship as a third option that combines the best of both, with the added edge of employment for the apprentice.
Their increasing popularity is testament to the benefits that apprenticeship offers - strong links with industry, earning while you learn, and access to cutting edge subjects across a range of education providers nationwide. More information is available at www.apprenticeship.ie.
Generation Apprenticeship initiatives include:
One More Job, a new initiative that provides a package of practical supports to micro and small businesses who will benefit from employing one or more apprentices in 2023.
A Gender-based Bursary available to employers who employ apprentices from a minority gender, across any of the 41 eligible apprenticeships, which aims to drive gender parity in the workplace.
An Apprenticeship Employer Grant is available to employers across any of the 40 eligible apprenticeships which have been established since 2016 and which do not attract payment of off-the-job training allowances.