eHealth and Disruptive Technologies (eHealth) is the HSE office responsible for the delivery of technology to support healthcare across Ireland. eHealth embraces all voice, video and data communications technologies and provides one central management point for all purchases of hardware, software, telecommunications, ICT developments and advisory services.
eHealth is also responsible for turning the eHealth Ireland Strategy into a reality ensuring that technology supports healthcare efficiently and effectively throughout the whole system. The core of the eHealth Ireland strategy is to bring improved population wellbeing, health service efficiencies and economic opportunity using technology-enabled solutions.
eHealth is essentially about the digitisation of health services and processes so that the data about the right patient is available in the right place and at the right time to ensure safe and efficient provision of care services.
eHealth offers a significant opportunity and is fundamental to providing new and integrated models of care. It's about helping healthcare professionals save time and save lives. It's also enabling patients, and the people who use our services, to experience better care. Our vision is to create a patient-centred, digitally integrated healthcare system and as we move towards this we are starting to see more and more benefits.
HSE Community Healthcare West are Jobs Expo Galway 2022 exhibitors.
As we know the Irish healthcare system is facing significant challenges. We know that if we are to continue to meet the needs of people who use our services, then we need to change the way we deliver services.
Community Healthcare Networks are being implemented across the country to deliver this change.
They will re-shape how we deliver community healthcare services. Implementing these Networks supports our aim of moving to a system that sees more care delivered in the community. These Networks will support people to live more independently in their community by coordinating and integrating services.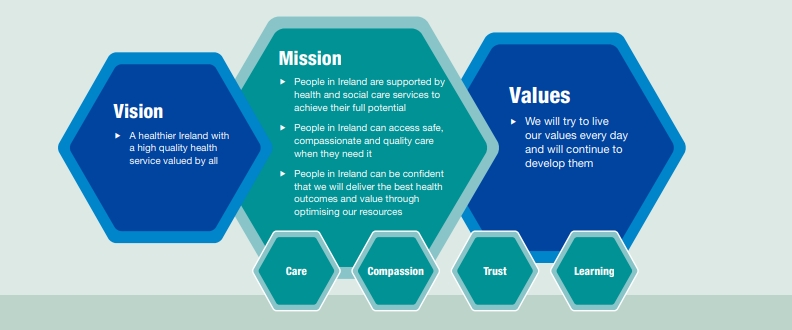 Diligent Corporation is the leader in modern governance providing SaaS solutions across governance, risk, compliance and ESG with more than $500 million in revenue and a $7 billion company valuation. Diligent currently serves more than one million users, from over 25,000 organizations around the globe.
Diligent empowers 79% of the Fortune 500, 90% of the FTSE 100 and 83% of the ASX 200 to improve their bottom line, keep pace with stakeholder expectations and create lasting, positive impact on the world. The company's innovative GRC platform gives leaders a connected view of governance, risk, compliance and ESG across their organizations, sparking the insights they need to make better decisions and lead with purpose.
Since 2016, Diligent has experienced significant growth internationally, expanding its product portfolio and growing customer numbers from 4,400 to over 25,000. Diligent hired over 200 employees for its European Hub in Galway in 2021 as part of its long-term business strategy to drive international growth and has quickly become one of the leading multinational enterprises in the region.
Chanelle Pharma is a partner of choice in the development and manufacturing of generic pharmaceutical products to the world's leading human generic and animal health multinationals and distributors.
They are passionate about understanding and addressing the challenges facing their medical and veterinary customers and bringing them innovative and effective products and solutions. Chanelle Pharma is headquartered on an 18-acre campus in Loughrea, Co Galway, with three manufacturing facilities, four research and development laboratories and a fifth R&D laboratory in Jordan. The company employs 550 people in Ireland, UK, Jordan and India.
At Chanelle Pharma, their employees drive the success. The company is on an ambitious growth trajectory and expanding its workforce across a number of disciplines in Science, Engineering, Quality, Finance, Sales and Marketing. You will have the opportunity to collaborate in their diverse and inclusive environment, the ability to learn and grow in your career, and an opportunity to make a direct impact on their business and customers.
HID Global, a leading physical and digital access solutions company opened their EMEA Centre of Excellence in the city late last year. HID Global has hired 120 new employees since 2019, it plans to grow its Irish cohort to 300 over the coming years.
The company is headquartered in Austin, Texas, and established a base in Tully, Co Galway, in 2006. It currently employs 220 people in Ireland and more than 4,000 people around the world.
The company's senior vice-president and head of Secure Issuance and Citizen ID Solutions, Craig Sandness, said the new Galway Centre of Excellence will be a "state-of-the-art facility" and will serve as a "major hub for the production of access and identification-related applications" Our new Centre of Excellence in Galway underscores HID Global's commitment to steadily expand our operations, R&D, supply chain, customer service, IT, finance and other business functions to support a growing customer base across EMEA," Sandness added.
Earlier this year, HID Global won the contract for Ireland's Department of Foreign Affairs (DFA) to provide a new operating system for the department's passport service. HID Global's HID Integrale™ software system makes the management of applications easier and more efficient by providing a citizen-centric case management solution connected to all services for the issuing of passports and related documents.
Overview of the company
Established in 1990, Transitions Optical is a pioneer in light management. The company's innovative lenses help people by enhancing their vision and the way they perceive light. The company's research and development professionals aim to create a better experience for anyone who wears spectacles.
The company's adaptive eyewear comes in the widest selection of designs and materials. Furthermore, the company is applying its technology to areas such as sports and leisure through partnerships with brands like Nike, Oakley and Lazer. Consequently, Transitions Optical make the number-one recommended photochromic lenses worldwide.
Transitions Optical jobs
Transitions Optical has a centre of excellence in Tuam and its global marketing office in Dublin. The company is recruiting for roles in research and development, engineering, marketing and other disciplines.
The company offers an attractive benefits package as well as great opportunities for personal and professional development. In addition, employees have opportunities for career growth in an agile and collaborative environment that values ideas and diversity.
Transitions Optical has consistently scored at the top end of the scale for employee engagement. For four consecutive years, the company has won a Gallup® Great Workplace Award.
The JFC Group is a family-run, international business. Their head office is in Tuam, Co. Galway. Their mission is to supply innovative product solutions across the divisions and markets they serve.
Redefining what is possible is our purpose and our passion.
The company's first product, the JFC Multi-Bucket Calf Feeder was launched on RTE's The Late Late Show in 1987. Since then JFC have transferred their problem-solving skills and expertise across 5 market sectors including Civils, Diamond Tools, Agriculture, Material Handling and Marine. With offices and production facilities in 8 countries they supply customers in over 40 international markets.
JFC Group are passionate about partnering with their customers to identify and solve their enterprise critical problems with their product solutions. A continuous focus on their customer's needs, investment in R&D and a company-wide innovative ethos has supported them to develop an extensive range of Award-Winning products.
The JFC brands include JFC Civils (CorriPipe™), JFC Diamond Tools (Samedia), JFC Agri (Evolution), JFC Material Handling and JFC Marine.
Great things are only possible with great people.
JFC employees work every day to discover and address new ways to solve customers problems. They are ambitious and lead with focus, drive and passion. JFC expect their people to give their best every day through delivering on the core competencies of leadership, business acumen, customer focus, achievement and relationship development. In doing so, they shape the strategic objectives and achieve the JFC Vision.
JFC are always looking for talented people to join the team and make it their priority to treat them well. They offer numerous career paths within their many businesses and departments including R&D, Sales & Marketing, IT, Finance, Operations, Procurement & Logistics, Human Resources and Management.
Whether it is speaking to a customer at an exhibition, designing a new product in the R&D laboratory or bringing products to life in their production facilities, everyone who works at the JFC Group starts with a commitment to Customers.
As a JFC employee, you will have exciting opportunities to innovate, collaborate and demonstrate your passion towards excellence every day.
NUI Galway was founded in 1845 and 2020 marked the 175th anniversary of the foundation of the University. The University has been a defining presence and recognisable landmark in Galway city for almost two centuries.
NUI Galway is an award-winning university in the heart of Galway city. Ranked among the top 1% of universities in the world, courses include business, law, medicine, arts, science, engineering and many more, all built on a thriving campus centred around a strong community.
A world class research response to COVID-19
NUI Galway encourages their students to develop original thinking, push boundaries and participate in finding solutions to global challenges. Their research benefits humanity, society and the economy. The COVID-19 pandemic is the single biggest health challenge the world has faced over a century. NUI Galway researchers have been the fore in looking at innovations and insights that can support the response to the COVID-19 crisis. As a research community with a strong sense of purpose, NUI Galway are mobilising their capabilities in the face of this global pandemic. Now more than ever across all disciplines, they are showing their calibre and collaborating with others around the world to support the global response to the COVID-19 pandemic.
What we do
Every person has an inner spark. It's something age and illness cannot take away. At Comfort Keepers, we go above and beyond through our expert at home care services to nurture our clients' unique qualities and bring about a sense of hope, connectedness, purpose, and most importantly, joy.
We nurture our employees to grow to be the best that they can be and provide plenty of opportunities for internal progression and promotion. Our company culture provides a positive and progressive space for each employee to feel like a valued member of the Comfort Keepers team.
National Recognition
We are delighted to report that Comfort Keepers Ireland has come 46th on the Sunday Independent's list of the 150 Best Employers in Ireland.
On top of this, in the healthcare category, Comfort Keepers was voted the 5th best employer in Ireland.
We are looking for caring people who are enthusiastic about making a positive difference in people's lives to join our team.
Our benefits include:
Direct employment with competitive hourly rates of pay
Flexible working hours around your schedule
Guaranteed hours with permanent contracts available
Payroll twice per month
Free uniform, PPE, and Garda vetting
Travel expenses between client visits covered
Employee discounts including health, life, and car insurance
Knowing at the end of the day that you have cared for people is incredible. However, we understand the impact that care work can have on you too.
How we support you and recognise your achievements:
On-call Support Team 24/7
Free Employee Assistance Program for you and your family
Wellness Program
Work-life balance
Carer of the Month Recognition Awards
CK Annual Recognition Awards
Training and progression:
Free Level 5 QQI qualifications
'Earn as you Learn' Program
Career progression opportunities
Regular refresher training and mentoring
Educational support
Responsibilities
Making a positive difference and enhancing our clients' daily lives
Supporting various tasks such as personal care, meal preparation, and housekeeping
Supporting social interactions and activities, protecting against loneliness and isolation
You'll never regret making a positive impact on someone's life so if you think you would be a good fit for our team then apply now at ckjobs.ie.
Since 2011, high-growth Irish owned company Resilience has continued to lead the way in transforming healthcare in Ireland. Our essence is to help build resilience in the people we support to bring the possible to life.
We provide specialist at-home nursing for people with complex medical needs.  We also provide Residential, Day and Outreach Services for people with Disabilities and Autism. We look for passionate, motivated people to join our team. We focus on realising potential, both of the people we support and our employees. Be inspired by a career with purpose and our rewarding culture that celebrates success, with flexible career options to help you achieve a better work-life balance.
Nordson MEDICAL (Nasdaq: NDSN) is a global expert in the design, development, and manufacturing of complex medical devices and component technologies. As a single-source partner, they enable their customers to save costs, speed time to market, and simplify supply chain management.
They work with companies at any point in the product lifecycle, from concept to launch and beyond. With their flexible business model, they can provide a solution that meets the scope and scale of any project to bring innovative ideas to life.
About ALS
ALS Minerals is internationally recognised as the global leader in providing geochemical sample preparation, analytical procedures, and data management solutions, with its European hub lab based in Loughrea, Co. Galway. ALS provides a broad range of sophisticated, state -of-the-art services and products to a broad range of industries.
ALS employs over 15,000 staff in 70 countries. Here in Loughrea we have a growing headcount of 300 staff.
Vacancies available:
General Laboratory operators for days, evenings and night shift.
No previous work experience/qualifications are required as full on the job training is provided.
(15% evening shift premium and 25%-night shift premium)
ICP Operators for rotation shift, between days, evenings, and nights.
Third level science degree is a requirement.
(15% evening shift premium and 25%-night shift premium)