We hope you are enjoying the summer. Jobs Expo had a busy spring and will be taking a break until autumn. Our first careers fair will take place at Leisureland Events Centre in Salthill, Galway on 30th September. In addition to recruiters looking to hire on the day there will the Career Clinic and Agenda Stage where attendees can gain some tips and guidance that can help their career steps. Your Success Coach, John Byrne, will be offering consultations at the Career Clinic and giving his seminar, The Importance of your Network/Networking for your Career, at 3pm on the Agenda Stage. Interested in attending? You can register for FREE ADMISSION today right here.
About John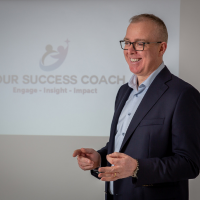 John is a passionate Business Coach with a particular interest in Communications Skills Training, Personal Development and Sales Skills. As a business coach and strategist, he helps executives and professionals to make breakthroughs that take them to the next level. In addition to that, John has over 20 years of experience as an entrepreneur owning and running a business.
His expertise lies in his communications skills and his passion for helping others to get from where they are to where they want to be. His work experience in Sales and Business Development in multinational and national sales organisations and entrepreneurship have given him the breadth of knowledge needed to pursue his passion for coaching executives and professionals.